---

Welcome at Domino-Petshipping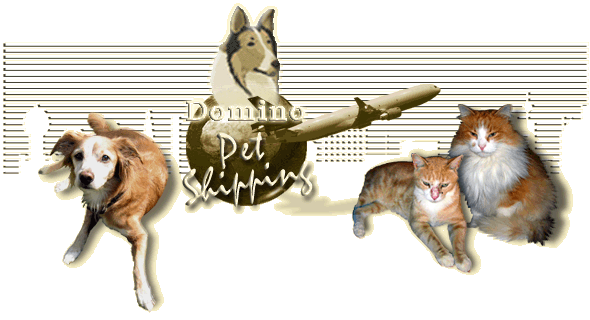 We care for your pet -

What is DOMINO PET SHIPPING doing for your pet?

DOMINO PET SHIPPING are specialists in the transportation of animals to all parts of the world. With years of experience in the transportation of pets to UK, USA, Australia, New Zealand, South Africa, Thailand etc. we ship on the quickest and most comfortable direct routes to guarantee a safe journey for your pets.

DOMINO PET SHIPPING is a certificated member of the Independent Pet and Animal Transportation Association International Inc. (IPATA).


FIRST REGISTERED MEMBER IN SPAIN

DOMINO PET SHIPPING can offer you the following services:
-Booking the most direct and comfortable flights.
-Veterinary services including vaccinations, blood tests, health certificates, etc.
-We help you with documentation, quarantine, import licenses, etc.
-DOOR to DOOR service worldwide
-Boarding in our own FIVE STAR Boarding Kennels
-Pickup and delivery of your pet worldwide
-Proper preparation of your pet and its travel kennel for flight. Click here for further Information>>>
-We provide custom clearance and delivery for pets arriving in all Spanish Airports.